Hello, my friend! I'm Lauren—
A photographer, Reiki Master, priestess, and general life enthusiast.
My story:

I'm really known to love everyone. So whether you're saying I do for the first or third time, or you're looking to spark your personal brand with portraits, photography is only a small piece of the picture when you're working with me.
It's about connection and capturing that connection you feel so deeply towards those you hold close to your heart, or towards that project you've sacrificed hours of your limited time to bring to life. My photographic style focuses on candids, the kinds of pictures you'll pull out of your scrap book 20 years down the road and say, "That's exactly what it felt like."
They're crafted so that you never forget the precious nature of your life's biggest moments—your legacies.
Starting books and never finishing them​​​​​​​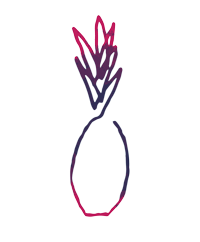 A pineapple is a sign of welcoming, and that's exactly what you'll get throughout your entire experience with me. This Picasso-styled one-liner represents the artistic, candid nature of the photographs you'll receive—the ones that pull you right back into the moment and make you feel ALL the feels.